Doak House Museum to host Christmas Open House on Saturday, Dec. 4
November 30th, 2010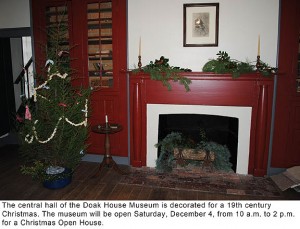 The Doak House Museum will be open for a special Christmas event on Saturday, Dec. 4.
The museum will host a Christmas Open House from 10 a.m. to 2 p.m. with special activities for all ages. The museum is located on the Tusculum College campus at 690 Erwin Hwy.
For the open house, there will be games and toys for children and free tours on the hour of the home of the 19th century home of the Rev. Samuel Witherspoon Doak, a co-founder of Tusculum College. The home has been decorated for an early 1800s Christmas.
A storyteller will perform in the central hall of the Doak House at 1 p.m.
Discounts on a variety of items, including toys and Christmas decorations, will be available in the museum's gift shop, located inside the Doak House.
For more information about the open house, contact the Doak House Museum at 423-636-8554 or lwalker@tusculum.edu.
The Doak House Museum and the President Andrew Johnson Museum and Library are operated by the Department of Museum Program and Studies of Tusculum College. In addition to the museums, the department is responsible for the College Archives and offers one of the few undergraduate Museum Studies degree programs in the country. The two museums are also part of the National Historic District on the Tusculum College campus. Follow the museums of Facebook and Twitter to learn the latest news and upcoming events.