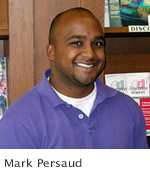 Mark Persaud, a senior Pre-Physical Therapy and Sport Science major, from Greenbelt, MD and Brooklyn, NY has been named the Student of the Block for Block by the Student of the Block Selection committee.
"Mark is a true Pioneer and actively involved in many campus organizations," said Bonnie Taylor, Student Life Coordinator, on behalf of the selection committee.
Mark is currently president of the Student Activities Board, co-captain of the Tusculum College Cheerleading Squad, a member of the President's Society, and he is involved in many other ventures around campus.
Mark was nominated by Jacqui Elliott, Vice President of Enrollment Management. She described Mark as a "true believer and supporter of Tusculum who spends countless hours volunteering his time and talent."
Tweet This Post